Information for Reviewers
Thanks so much for your interest in reviewing Lycopolis. 
This page hopefully has all the information you'll need, but just drop me an email (ali@aliventures.com) if I can help by providing anything else.
Review Copies
I can supply digital review copies in .mobi, .epub or .pdf format: email me at ali@aliventures.com and tell me which you'd prefer.
If you need a physical book, let me know: I may be able to supply you with a paperback copy.
Links to Lycopolis 
You can link to Lycopolis, and/or post your review, here:
Amazon.com:  www.amazon.com/Lycopolis-Ali-Luke/dp/1909068004
Amazon.co.uk: www.amazon.co.uk/Lycopolis-Ali-Luke-ebook/dp/B0068R6GAC
Goodreads: www.goodreads.com/book/show/38223684-lycopolis
About Lycopolis
Lycopolis is the first book in a trilogy. If you'd like to review the others as well, I'll be delighted to supply them!
It sits somewhere on the border of contemporary fantasy and supernatural thriller (think "real world with evil demons"). It'd probably most appeal to an adult but youngish audience (18 – 30 or thereabouts), but it's been enjoyed by readers aged from 14 up to 70+.
Short Blurb/Teaser
A pacy novel about dubious online friends, dangerous pacts, promises broken, secrets betrayed, and a demon that reigns over nightmares.
Long Blurb
It begins in an online game, with a story about a human sacrifice and a demon summoning.
It ends similarly, in a dark forest. Except it's not just a story now.
And it was never just a game.
***
Seth's got a lot going for him: money, charm, and Lycopolis, a niche online game where he can play god.
He wants more. Much more. Because Lycopolis isn't just a game — and Hallowe'en offers the perfect excuse to introduce a spooky twist to the story he's orchestrating.
Only one of the players refuses to take part: Kay.
Frankly, he didn't think she had it in her. But, as he wrestles with power and faces the darkness, she's the one who keeps getting in the bloody way.
Of course, he wins. He always wins.
Except this time, he wishes he hadn't. Because something ancient and evil has been playing him all along. And by the time he understands just what's at stake, it's almost too late … and even Kay might not able to save him.
(Please feel free to quote either / both blurbs on your blog.)
Cover Image
You're welcome to download this and upload it to your blog, or you can link direct to the cover image here.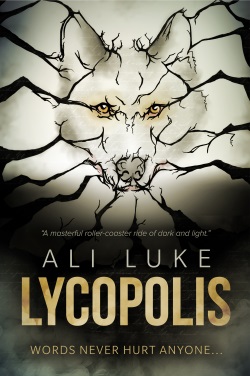 Lycopolis cover, 250px x 376px. URL: www.aliluke.com/wp-content/uploads/2017/06/lycopolis-cover-small.jpg
Want a larger version? You can get the full sized cover here: www.aliluke.com/wp-content/uploads/2018/01/lycopolis-full-cover.jpg
What Other Reviewers Have Said
These are excerpts from just a few of my reviews: you can find plenty more on Amazon.com, Amazon.co.uk and Goodreads:
K.M. Weiland: "Obviously written by a pro, this is a fast read that offers a surprisingly (for its length) complex and intricate plot. Horror and its ilk isn't my genre of choice, but I love the premise of a role-playing game taking over its players' lives in a very real and disturbing way. Luke brilliantly segues between real life and gameplay, and interweaves a host of characters and a ton of POVs (something I generally dislike) in a way that allows them all to become insightful and interesting people."
Elizabeth H. Cottrell: "This book was a gripping, entertaining read, and totally outside of my normal range of reading genres. I bought it because I enjoy the author's blog about writing, and I just wanted to support her. What a great surprise to find a book I am happy to recommend to anyone who wants a fast-paced plot (that's scary without being depressing or overly violent) with well fleshed-out characters."
Anon: "This is one of those books I started reading late in the afternoon and then couldn't put down. I stayed up WAAAY too late reading it, because it's the sort of story where you want to read one more chapter and one more after that because you care about the characters, and you're afraid something terrible will happen to them."